Theology Network Day 2023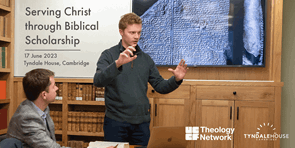 Studying theology, classics, archaeology, history, linguistics, or a related subject? Have you thought about what's next? Maybe you're considering further study.
Join us on Saturday 17 June for a day hosted by Tyndale House and UCCF's Theology Network to explore the possibility of pursuing biblical scholarship as a way of serving Christ.
09:30am until 4:00pm, Tyndale House, 36 Selwyn Gardens, Cambridge, CB3 9BA
Talk to current PhD students about their experience of biblical research, hear from Tyndale House scholars about their current projects, and ask your questions about pursuing scholarship yourself.
There will even be taster sessions involving manuscripts and clay tablets…
Tea and coffee will be available during breaks and lunch will be provided.
Tickets are £5.
Bookings close at midnight on Sunday, 11 June 2023.
Programme for the day
0930   Arrival and coffee
1000   Welcome and Introduction
            Tony Watkins – Fellow for Public Engagement, Tyndale House
            Michael Williams – Theology Network Coordinator
          Why study the Bible academically? 
           Peter J Williams – Principal, Tyndale House
1100   Coffee
1130   A taste of biblical scholarship 
           1. Investigating names in the ancient Near East
           Research Associate in Old Testament & Ancient Near East, Tyndale House
           2. Punctuation & Paragraphing in the Oldest Greek NT Manuscripts
           Research Associate in New Testament Text & Language, Tyndale House
           3. Dizzying Doom and Gloom: Why not to skip Job 3-37
           Ellie Wiener
           PhD student
1245   Tyndale House tour
1300   Lunch
1400   Greek language taster – Peter J Williams (Upper Hex)
           Cuneiform workshop – George Heath-Whyte (boardroom)
1430   A chance to chat with PhD students
1500   Tea
1530   Panel discussion about biblical scholarship
1600   Close