Tyndale Fellowship Study Groups
Our six discipline-based study groups connect researchers and provide opportunities for discussion and networking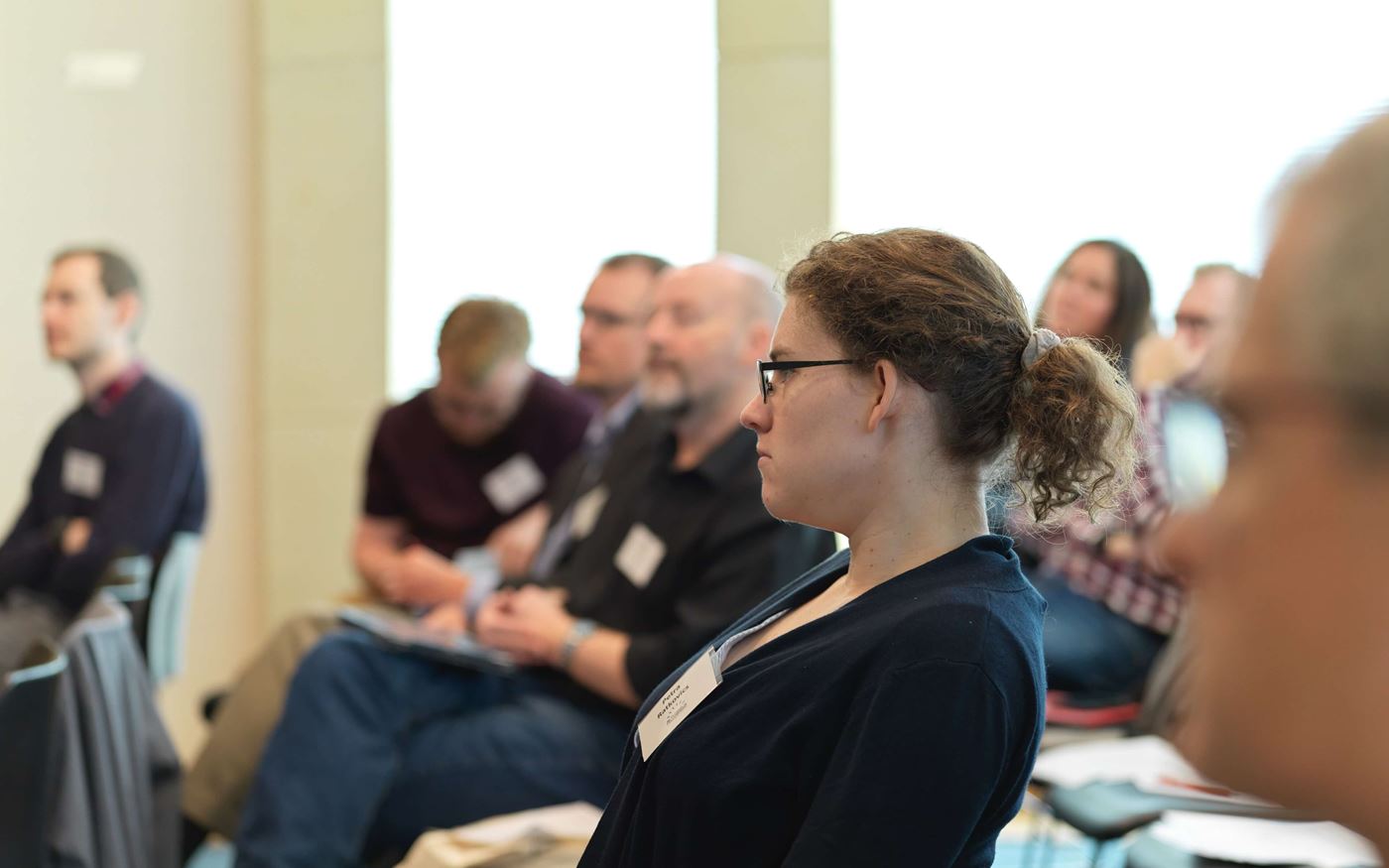 Save the Date: 22-24 June 2022
We are pleased to confirm the date and location for the Tyndale Fellowship Study Groups 2022 and would encourage you to save the date.
Our six discipline-based Study Groups will meet over three days Wednesday 22nd – Friday 24th June 2022 at High Leigh Conference Centre, United Kingdom. We look forward to finally be able to meet face to face again, connecting researchers from across the globe and provide opportunities for discussion and networking. We are working diligently to produce an accessible and engaging annual conference. Further information will be provided in due course. Registration is scheduled to start in early December 2021.
Please find below further information about each of the Study Groups' topic for 2022 and information about how to submit papers.
Please note that this information is being updated.
-
Biblical Archaeology
Chair: Alan Millard, amillard@liv.ac.uk 
Co-Chair: Caleb Howard, caleb.howard@tyndalehouse.com 
The Biblical Archaeology Study Group of Tyndale Fellowship will meet during Wednesday 22 June-Friday 24 June 2022 at High Leigh conference centre at Lord Street, Hoddesdon, Hertfordshire EN11 8SG (https://www.cct.org.uk/high-leigh/high-leigh-conference-centre).
We encourage paper submissions around the topic, "Israel and Her Neighbors," including subjects dealing with archaeology, language, and/or texts (biblical and otherwise). Given the breadth of this topic, papers dealing with the interactions of Israel with other people-groups during the time-periods of both testaments are welcome.
Those who wish to submit a proposal should send a paper-title and abstract of no more than 150 words describing their subject and argument, along with their full name with prefix, job title/course of study, institution, and country of residence, to Caleb Howard (caleb.howard@tyndalehouse.com).
The deadline for submission is 31 December 2021.
We encourage those submitting papers to become members of Tyndale Fellowship, if they are not already.
Biblical Theology
Chair: Desi Alexander, t.d.alexander@union.ac.uk 
The Biblical Theology Study Group, from Wednesday 22 June to Friday 24th June 2022, will focus on the topic: 'A Biblical Theology Perspective on the Tabernacle/Temple and its priesthood'. The group will be meeting at High Leigh Conference Centre, Lord Street, Hoddesdon, Herts EN11 8SG.
From the concluding chapters of Exodus to the letter of the Hebrews, the tabernacle/temple and its priesthood occupies an important place in Scripture. As God's earthly residence among the Israelites, the tabernacle/temple plays a vital role in enabling the Israelites to have a special relationship with God. Closely linked to the creation of the tabernacle/temple is the appointment of a high priest who supports the covenant relationship between God and the Israelites. According to the author of Hebrews, the earthly tabernacle constructed at Mount Sinai is modelled upon a heavenly sanctuary, where the ascended Christ serves as our great high priest.
The 2022 Biblical Theology study group provides an opportunity to explore this important topic from a variety of different perspectives. We are keen to have a range of innovative papers that will provide an opportunity for us, as a study group, to reflect upon and discuss how the concept of tabernacle/temple and its priesthood may be best approached through the discipline of Biblical Theology.
We welcome offers of papers from members of the Tyndale Fellowship and sympathetic non-members. We are especially keen to have papers from those who have recently completed their PhD, or are in the process of doing so. In the first instance, offers of papers should be made to the Chair of the Biblical Theology Study Group, Dr. Desi Alexander at t.d.alexander@union.ac.uk.
Offers should be forwarded by 26th November 2021.
-
Christian Doctrine
Chair: Tom Noble, tanoble@nts.edu 
Co-Chair: Jason Sexton, jasonsexton@ucla.edu
The Christian Doctrine Study Group will meet from Wednesday 22 June to Friday 24 June 2022, at High Leigh Conference Centre, Lord Street, Hoddesdon, Herts EN11 8SG, focussed on the topic: 'Who is Jesus Christ today?'

Several recent explorations into Christology have been conducted over the last years in relationship to a doctrine of creation, contemporary science, among the disciplines, and with ongoing questions of relevance to contemporary theology (Black, Latinx, etc.). The 2022 Christian Doctrine Study Group wishes to host a selection of papers and presentations from current perspectives, developing current understandings in biblical studies (OT/NT), history (antiquity, medieval, modern), and from a range of academic disciplines (including natural and social sciences, the arts, and humanities) and various global geographical regions with diverse concerns (cultural, political, economic, missiological, etc.) for addressing the question, 'Who is Jesus Christ today?' Our inquiry may develop over multiple years with special interest in relevance for ancient and contemporary Christological doctrine.

For consideration of inclusion into the 2022 program, please send abstracts of 250 words, including name, title, and institutional affiliation to jasonsexton@ucla.edu and TANoble@nts.edu by 31 December 2021. Papers will be selected for presentation by 31 January 2022.
-
New Testament
Chair: Ian Paul, editor@grovebooks.co.uk 
Co-Chair: Nick Moore, nicholas.j.moore@durham.ac.uk 
The Letter of James charges us to be doers of the perfect law of Scripture and not hearers only. Like all New Testament texts, James desires not merely to inform his readers but to see them transformed by God's power at work through the gospel. What does it mean to fulfil the law of Scripture? How should Christians live? What does the New Testament have to say to wider structural and societal conversations about ethics? How do we move from these ancient texts to moral questions today?
The theme for the Tyndale Fellowship New Testament Study Group in 2022 is Ethics and Moral Transformation in the New Testament. We meet from Wednesday 22—Friday 24 June 2022, physically at High Leigh Conference Centre in Hertfordshire.
We welcome proposals of up to 200 words for papers on topics relating to the theme, which could include (but are not limited to):
The ethics of a particular NT text or group of texts;
Treatment of a specific ethical theme or question in a single passage or across several texts;
Exploration of how we reason morally from Scripture;
Addressing a contemporary moral issue in light of biblical material;
The relationship between ethics and protology, or ethics and eschatology, as found in the NT.
We also welcome proposals for papers on any NT topic for an open session.
Paper titles and proposals should be sent to the group's co-chair, Nick Moore (nicholas.j.moore@durham.ac.uk), by 31 December 2021.
-
Old Testament
Chair: Brittany Melton, brittany_melton@pba.edu 
Co-Chair: Chris Ansberry, ansberrycb@gcc.edu 
At this summer's meeting (June 2022) the Old Testament Study Group programme will be on the theme of the Megilloth, including papers on Ruth, Esther, Lamentations, Song of Songs, and Ecclesiastes.
-
Philosophy of Religion 
Chair: Daniel Hill, djhill1972@gmail.com 
Co-chair: Yang Guo, xyg21@cantab.net 
-