4 reasons to publish in Tyndale Bulletin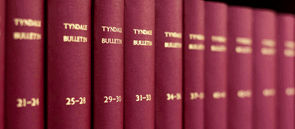 Back in 1956 Tyndale House established a new publication entitled The Tyndale House Bulletin. Renamed Tyndale Bulletin in 1965, this journal continues to publish peer-reviewed academic articles, predominantly in biblical studies, and the back catalogue now runs to 72 volumes. 
The full archive is freely accessible – searchable by title, author, and keyword – at tyndalebulletin.org, where new articles are made available on an open access basis as soon as they are published.

Recent highlights have included Prof. James Hoffmeier's article on the Exodus route in light of recent archaeological discoveries, and Prof. Eckhard Schnabel's paper on the messianic connotations of 'Christ' in Paul's letters.

The journal publishes scholarly articles which make an original contribution to biblical studies and related disciplines. If you are carrying out research in this field, we would like to encourage you to consider publishing your work with us.
Here are four reasons to consider:
1.
Accessibility
Tyndale Bulletin articles are published open access (with no charges to readers or authors) so your work will be freely available across the world even to those without easy access to academic library facilities. Articles are published online on a rolling basis as soon as they are ready, with no embargo period. In addition the print version continues to be widely available in theological libraries.
2.
Quality
Tyndale Bulletin is widely recognised and has published significant research by many leading scholars. Articles are peer-reviewed by experts in the relevant field.
3.
Discoverability
Tyndale Bulletin articles are indexed in key academic databases including Atla, the Directory of Open Access Journals, Scopus and Web of Science, as well as being automatically included in Google Scholar. 
4.
Future-proofing
Articles are archived electronically by Portico to ensure long term online availability. For details of how to prepare your manuscript and submit it to us please see tyndalebulletin.org/for-authors.
Also available at the following links are further details of the journal's review process and criteria: