How scepticism became a bestseller
Article
6th September 2019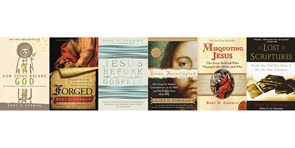 Prof Bart D Ehrman has sold millions of books questioning the reliability of the Bible. Read beyond the dramatic titles, though, and his arguments are far from irrefutable
Bart D Ehrman is arguably the world's most influential Bible sceptic. As the James A Gray Distinguished Professor of Religious Studies at the University of North Carolina at Chapel Hill, he is a gifted communicator widely sought as a speaker and debater.
His Bible scepticism gains persuasiveness through the story of his own deconversion from Christianity, after studying at two well-known American Evangelical institutions (Moody Bible Institute and Wheaton College) before going on to Princeton. He developed a highly credible publishing profile by beginning with obscure technical work before proceeding to college textbooks and then six New York Times bestsellers, the first of which, Misquoting Jesus, came out when Ehrman was 50.
Thus unlike many popular sceptics who take swipes at the Bible, Ehrman has a weight of scholarship behind him when he speaks. He gains further weight through avoiding many of the most extreme sceptical positions — he even wrote a book against those sceptics who argue that Jesus didn't exist — and through the fact that so much of what he says is supported by a host of other scholars who are equally sceptical of the Bible, though less vocal.
No wonder some of his 30 or so books have been translated into nearly as many languages and his books have sold more than two million copies. All this might make Ehrman's arguments sound unassailable, but they're not. They're simply a well presented case for Bible scepticism. I want here just to point out two notable characteristics of his writings.
Sensationalist titles
Ehrman is master of the sceptical (sub)title. Often his titles stress that he's revealing information which has been kept from us (note the word "we" in all three titles):
Lost Christianities: The Battles for Scripture and the Faiths We Never Knew (2003)
Jesus, Interrupted: Revealing the Hidden Contradictions in the Bible (And Why We Don't Know About Them) (2009)
Forged: Writing in the Name of God — Why the Bible's Authors Are Not Who We Think They Are (2011)
Though titles need to aim to grab attention, we still have to ask whether the impression given in the title is true. Consider Ehrman's first bestseller:
US title: Misquoting Jesus: The Story Behind Who Changed the Bible and Why
UK title: Whose Word Is It? The Story Behind Who Changed the New Testament and Why
In marketing terms, the US title is certainly snappier, but we can see from the UK title that it's knowingly inaccurate. The book is purely about the New Testament, but the US title gives the impression that the whole Bible has been substantially changed.
When we open up the book we find that by far the biggest "changes" Ehrman writes about are the end of Mark (Mark 16:9–20) and the passage about the woman caught in adultery (John 7:53–8:11), which are of course points of manuscript variation noted in most modern Bible translations (and probably circulated in hundreds of millions of copies). Based on the content provided in the book Ehrman could equally well have entitled it "The Story Behind Who Changed Small Parts of the New Testament and Why", though I guess that might not sell so well.
The ideas of change, deceit and cover-up in earliest Christianity are regular themes as we see from other titles by Ehrman:
Lost Scriptures: Books that Did Not Make It into the New Testament (2003)
Forgery and Counterforgery: The Use of Literary Deceit in Early Christian Polemics (2012)
How Jesus Became God: The Exaltation of a Jewish Preacher from Galilee (2014)
Jesus Before the Gospels: How the Earliest Christians Remembered, Changed, and Invented Their Stories of the Savior (2016)
There's often a major disconnect between the dramatic title and the contents of the book. After all, in an appendix to an early edition of the US paperback of Misquoting Jesus Ehrman admits that if he and his teacher, Professor Bruce Metzger, one of the main editors of the popular Greek New Testament published by the German Bible Society, were editing the Greek New Testament together "there would be very few points of disagreement — maybe one or two dozen places out of many thousands." In other words, what Ehrman would produce would differ little from what stands behind modern English Bible translations. But how many readers of the subtitle The Story Behind Who Changed the Bible and Why would conclude that Ehrman might only be talking of a small number of changes to wording across the entire New Testament?
When we open up the book we find that by far the biggest 'changes' Ehrman writes about are Mark 16:9-20 and John 7:53-8:11, which are points of manuscript variation already noted in most modern Bible translations
Distance creators
A recurring theme in Ehrman's work is that of distance. Whether it's the distance in time between the New Testament manuscripts and the original authors, or the distance between the original authors and Jesus, Ehrman has a whole array of ways of creating the impression of a huge gap between the New Testament and us.
Ehrman's story runs like this. Yes, there was a Jesus, who was a preacher who expected the end of the world within a generation, but who didn't think of himself as the Son of God. He came from the rural "hamlet" of Nazareth, taught in Aramaic and his words were heard by Aramaic-speaking illiterate peasants. Any stories and teachings from Jesus which arrived at the highly literate and educated gospel writers had been through many stages of transmission within an oral culture (and we know oral cultures aren't even aware how much their traditions change). The gospels were written in the late first century and are probably not by the people whose names they bear. They lived well away from Roman Judaea and wrote 40-65 years after the events.
The best analogy for the way the message was corrupted is what in the US is called the Telephone Game (or, as it rather insensitively used to be known in the UK, Chinese Whispers), the party game in which a message is whispered round a circle of people and the message is easily corrupted as it passes from one person to another.
All this corruption could occur because there weren't that many people passing on the message. By the year AD 100 there were only about 7,000 to 10,000 Christians in the entire world. The likelihood that an individual in the Roman empire would actually know a Christian personally was relatively slim.
But with more consistency with the evidence one could tell a completely different story. Jesus has as many biographies of him as the most famous person alive at the time, the emperor Tiberius. In these sources he repeatedly indicates that he is uniquely God's Son.
He came from Nazareth, which overlooked the international trade route through the Jezreel Valley. Nazareth was four miles from Sepphoris, which was the capital of Galilee for much of Jesus's childhood and had a Greek theatre. Jesus knew exactly what actors were, which is why he used the word "actor" (Greek hypocrites) to describe Pharisees. In adulthood Jesus moved to Capernaum, and travelled within a rather multilingual context. He came to be called a rabbi and gathered disciples whose main job it was to learn his teachings.
The names of his disciples reflect the trilingual context: Greek (Andrew, Philip); Aramaic (Bartholomew, Thomas); and Hebrew (John, Matthew) — so that whatever language Jesus taught in there's no reason to think his teaching could not be correctly handed down in Greek. After the first Easter, Christianity spread like wildfire as reflected in the numbers given in the Acts of the Apostles: 3,000 came to believe (2:41), then 5,000 men (4:4), then more and more (6:7; 11:21; 16:5); people claimed that Christians had turned the Roman world upside down (17:6) and were wrecking the Ephesian silversmiths' trade (19:24-27); the numbers of Judaean believers alone numbered in their tens of thousands (21:20).
The stress on the large numbers of Christians is something which similarly comes through the reports of Tacitus and Pliny. The book of Acts would have looked completely implausible if, as in Ehrman's model, it were claiming the Roman Empire were being overrun by a group hardly anyone had ever encountered. There were many people who had seen and heard Jesus. In the four gospels we have two accounts by eyewitnesses (Matthew and John), and two by non-eyewitnesses, but based on eyewitness testimony (Mark using Peter, and Luke interviewing many).
Ehrman's work is significant because he is so widely read and because he also has developed a comprehensive secular explanation for early Christianity. His position results from an accumulation of choices of more sceptical interpretations of the evidence, but many of these choices are wide open to challenge and indeed are actively challenged by other scholars.
Keep Reading
If experts differ about which sources are the most accurate, how can we have confidence in our Bible translations?

Peter J Williams

Dr Peter J Williams asks how we should approach differences in the narratives about Jesus's birth

Peter J Williams

What is the physical evidence for the text of the New Testament and how far back does it actually go?

Dirk Jongkind
Explore