Reading with the ancients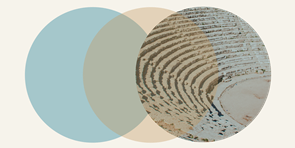 For most, the words 'classical antiquity' conjure images of pillars and pottery, of tragedies and togas. These symbols of ancient civilisations like the Greeks and the Romans are still prominent today. But the legacy of classical antiquity is more than spectacular ruins or ancient myths. 
We sat down with two current PhD candidates studying classical writings and the early Church to ask whether getting to grips with classical literature can really help us to better understand the Bible and the world it came from.
Defining the Classics
First, like good scholars, we define the Classics. Anyone who googles 'the classical period' in preparation for an interview will soon learn that many things, from Mozart's music and Jane Austen's novels to Coca-Cola, have been heralded as classics over the course of history. While these things are all classics in their own right, we were gathered to discuss a more ancient category of classic.
Capital-C 'Classics' refers to the study of the languages, literature, history and cultures of classical antiquity—the period of the ancient Greeks and Romans, as well as other Mediterranean neighbours like the Egyptians and the Persians. Although scholars debate the exact dates, we consider classical antiquity to be at its height between the eighth century BC and the sixth century AD, give or take a few hundred years. By this definition, the whole New Testament and much of the Old Testament come from the classical world: the exile of Israel to Assyria took place in the late eighth century BC, while the four Gospels were written by the first generation of Christians in the first century AD. The same is true of the writings from the early church. For example, famous theologians like Irenaeus, Eusebius, and Augustine lived and wrote and worked out their faith between the second and fifth centuries. 
Since the classical world is the backdrop against which the story of Scripture and the history of the early Church unfold, studying it can provide important insight for biblical scholars. As Ed points out, 'This is a world that is coterminous with Christian and Jewish history and engages with it time and time again. We can see prophecy in Daniel that alludes to various empires that rose and fell, and we can see prescripts in Esther and Isaiah that allude to different kings and rulers. This is not a world that is divorced from Scripture, this is the world in which Scripture was penned and spread.'


Finding shared ground 
Ed Creedy is a classicist and a church historian. He's currently working on a PhD at King's College London on The Protrepticus, a text written by Clement of Alexandria in 195 AD. His research focuses on encounters between the early Church and its classical culture. Along the way, he's discovered a striking similarity and shared humanity with the ancient writers he's studying.
'I think we approach the classical world as this weird, quasi-fantasy land where everyone's running around in bedsheets and worshipping these funky gods—but actually, I think they're so similar to today. People don't change. The preoccupations and the interests and the desires of people in Roman Alexandria, or Athens in the Greek classical period, they are not different to ours now.'
Ed points to The Trojan Women, a play by Euripides about women mourning the desolation of their city in war, as one example of the way classical literature can help bring the lived reality of this period into sharper view. 'The humanity is so tangible in these writings,' he says. 
Ed finds particular affinity with the church fathers, highlighting the similarity of their context to that of Christians today. 'These ancient texts communicate faith and the working out of faith in a hostile culture and in a world where you are small and the world is big. It sounds like I'm beating my own drum here, but I think the church fathers are an invaluable resource that we have massively underappreciated.'


Reading like a classicist 
Tom Habib is a biblical scholar from Sydney, Australia studying at the University of Cambridge. His PhD research compares the Gospel of John to The Bacchae by Euripides, a Greek tragic play first performed in 405 BC. Although Tom encountered classical writings when learning Latin and Greek, he's only recently turned to the Classics to help him read and interpret John.
'My interest was in John's Gospel, and in particular how belief and unbelief are portrayed in John's Gospel through characters. As I read more of the scholarly work on characters in John, I noticed that a lot of it tends to view them from a very modern perspective. And it just seemed to me to be an odd reading for an ancient text.'
Tom gives the example of Nicodemus, the Pharisee who visits Jesus at night in John 3. Where John's Gospel narrative portrays characters as responding to Jesus either in belief or unbelief, a complex character like Nicodemus may appear to complicate this portrayal. 'In more modern conceptions of character, complexity suggests ambiguity that defies evaluation,' Tom says. 'A lot of the modern scholarship on Nicodemus heads in that direction where it offers ambiguous readings of Nicodemus that are then used to suggest that John is portraying an ambiguous portrait of faith. But that sounds a lot more like a modern writer than the author of John.'
Thinking like a classical writer sheds light on a more likely interpretation of Nicodemus. Tom brings up a method of ancient reasoning known as dialectical inquiry, which interrogates competing perspectives to discover the truth. 'Ancient writers believed in objective reason and reasoning, but they recognised complexity. They would often posit two truths that seemed contradictory and form a dialectical inquiry out of them. In Greek tragedy, where you do have very complex characters who are very hard to evaluate, they form part of a dialectical inquiry that's going on in the text.'
This can help us make sense of Nicodemus' story. He appears three times in the Gospel of John: in chapters 3, 7, and 19. 'When you get to John 19, Nicodemus buries Jesus according to the burial customs of the Jews, which is a recognition of his kingship. So, you have someone who's very clearly of the Jews but who comes to believe in Jesus. John seems to be exploring the tension between the Judean practices and law and belief in Jesus, and he's finding resolution with Nicodemus.' In other words, where a modern reader might interpret Nicodemus as a character of ambiguous faith, John actually tells his story to encourage belief.
I'm interested; where should I start?
Talking with Ed and Tom, I'm reminded of the ways in which the world of the Bible is both similar and different to our own. Academics like Ed and Tom engage with these similarities and differences in order to better understand our faith and its history. My final question is a simple one: how can someone who doesn't study the Classics at a PhD level still experience some of these benefits? 
The best place to begin is with the immediate history of the Bible, Ed says. 'We have a historical faith, so it makes sense that we engage with the history that our faith arose from.' A good study Bible can put centuries of historical research at your fingertips. Scholars have put a lot of work into compiling notes that illuminate the text of Scripture, including timelines, maps, and historical overviews. Visiting a museum of the ancient world, and seeing first-hand objects that were created and used by people who lived during Bible history, can also help us to situate Scripture in it's historical context. 
For those with the time and interest to start reading some classical texts, Ed and Tom agree that the church fathers are a great place to start. 'Basil of Caesarea's On the Holy Spirit from the fourth century is one of the foremost meditations on the Holy Spirit of the last 2000 years,' says Ed. 'And On the Apostolic Preaching by Irenaeus (180 AD) is a very easy piece of early Christian literature to read and get into. It explores the Gospel and faith simply and helpfully.'
Tom adds that texts like these can help us see how early Christians read their Bibles. 'It gives you an insight into how someone would have received the Scriptures,' adds Tom. 'That's not to suggest that what they write is exactly how the New Testament writers were thinking, necessarily, but perhaps just to shake-up our more modern approach.'
What should we do when we encounter jarring differences between ourselves and the church fathers? 'Approach them with humility,' says Ed, 'because I think we tend to approach them with a sort of superiority. Approach them with the Bible in one hand and don't just disregard them because they wrote when people were "unenlightened and silly," but also don't blindly accept everything they say.'
Speaking of keeping the Bible in one hand, Tom shares a rule he sticks to in his own studies. 'My approach is always to anchor myself in the text of Scripture, so that Scripture is my centre of gravity and I'm always drawn back to it. I venture out, to understand the world in which John was written, but I'm always drawn back to, 'What does God say in the text?' That is the final word. 
'Even though I think it's very helpful to understand the world in which John writes, it's certainly not a substitute, nor should it be primary in my reading of the book of John. John himself says that God's Spirit will be at work, illuminating Christ.' While it's important to seek out context for the Bible, it's also important to remember that we don't interpret the Bible without help.