Uncovering the hidden lives of manuscripts
Article
7th December 2021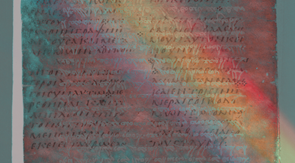 The nineteenth and early twentieth centuries were great times for the discovery of biblical manuscripts. Alongside the famous discovery of Codex Sinaiticus at St Catherine's Monastery in Sinai by Constantin von Tischendorf, and the discovery of the Dead Sea Scrolls in the Judaean Desert from 1946 onwards, there were numerous less famous but really significant discoveries of manuscripts.
Though there are now ethical questions to be asked of the circumstances of many of these manuscript discoveries, there is no doubt that the combination of explorers, excavators, antiquities dealers, and publicly and privately funded collectors brought to light a mass of manuscript material which revolutionised our knowledge of the transmission of the Bible and our ability to study the ancient world.
But such discoveries are far less likely today. The most obvious leads for manuscript discovery have been explored and monasteries have access to global expertise to help identify the treasures in their collection. So where are discoveries to be made?
'The best place to look for ancient manuscripts is in a library', says leading New Testament textual critic, Dr Peter Head, formerly of Tyndale House, now tutor at Wycliffe Hall in Oxford. The Oxyrhynchus Papyri collection, held at the University of Oxford, is one example. It contains over 500,000 text fragments from the third century BC to the seventh century AD. Despite being discovered between 1896 and 1907 the collection is still being examined, transcribed and published today. As claims of important discoveries from this collection in recent years have proved, it is reasonable to believe that there may be valuable texts still to be discovered within the archive boxes. Important manuscripts can often lie overlooked in university and monastery collections like these, and there's one particular sort of manuscript which is likely to provide particular fruit for the future.
The palimpsest
The word palimpsest comes ultimately from the Greek word for something 'scraped again': palin 'again' and psestos 'scraped'. The final n in palin changes to m before p, but not before d. Similarly, in English we have sym-pathy and syn-drome, like palim-psest and palin-drome.
A palimpsest is a reused manuscript where one layer of writing has been scraped or rubbed or washed off and another has been put on top. There are many hundreds of ancient palimpsests which survive today and are still awaiting study.
The reason for making palimpsests is that until very recently, writing material was rather expensive. At the time of the New Testament there were two main materials for manuscripts: leather and papyrus. Of course people also wrote in other ways, including inscriptions and graffiti on hard surfaces, ink writing on broken pottery, and even on reusable wooden tablets covered with beeswax. However, for manuscripts either papyrus had to be obtained from Egypt or animals had to die. A leather manuscript might involve scores of animal skins, each of which had to be carefully prepared.
Though paper was invented in China shortly before the time of the New Testament, it didn't reach the Middle East until after the rise of Islam and didn't get adopted in Europe till much later. Beginning no later than the eleventh century in southern Europe and working its way gradually North, it wasn't till after the invention of printing in the fifteenth century that England had its first paper mill. In part the slow adoption of paper was for technological reasons. At first it wasn't easier to make than to prepare leather. The earliest paper mills were powered by humans or animals, not by water. 
So for Christians in the ninth century AD the main writing material was leather. New leather was available, but it often seemed preferable to reuse existing leather manuscripts by removing the ink and then writing on top. These circumstances came together in the late first millennium AD to create the perfect circumstances for a golden age of palimpsest creation. 
The single similarity between all palimpsests is that someone has found the lower text not worth preserving. Though it's tempting to psychologise and suppose that the people who produced the upper writing didn't like the lower writing, it's best to resist this way of thinking. The lower writing might have been erased by a different set of people who have then sold on writing material.
Palimpsests can exist between many different languages and types of text. Some languages like Gothic or Christian Palestinian Aramaic are mainly preserved in the lower writing of palimpsests. This is because the use of those languages diminished over time, making their manuscripts ideal for erasure and reuse. Often there's a gap of several centuries between the time of the erased writing and the time of the upper writing—long enough for the lower writing no longer to be useful, or readable, for new communities. 
Reading palimpsests today 
What makes these so interesting today is that using modern imaging techniques we're often able to read the older writing that has been rubbed out. Researchers at Tyndale House are currently involved in a project to try and read the older writing of a 292-page palimpsest called Codex Climaci Rescriptus. In this case, the earlier, lower layer varies from page to page but includes a mixture of texts, some are portions of the Bible in Greek or a dialect of Aramaic (close to the one that Jesus would have spoken), and there are even pages of astronomy written in Greek. The manuscript's top layer of writing is from around the ninth century and consists of sermons written in Syriac. 
People have been reading palimpsests since the late nineteenth century, often using ultra-violet light or even applying chemical reagents which are destructive but might give temporarily improved visibility to erased writing. Then for most of the twentieth century there was a lull as no further technical progress could be made in reading techniques. All of that changed with the advent of digital photography which offered new possibilities to capture and process images of manuscripts.
One of the key areas of improvement has been multispectral imaging, a technique now even available on many smartphones. Multispectral imaging technologies make use of light to reveal information not perceptible through human eyes by restricting the wavelengths illuminating a manuscript or filtering them as they are received by the camera. In a simple case there might be a chemical contrast between the ink in the upper layer of writing and that in the lower layer. In this case a particular wavelength of light may reveal the desired writing.
More often, though, we find that mathematical processing is required to make images which enhance a weak signal and even then it may take days of work for a scholar to identify a few words. Even within a page there may be words which can be easily read and other parts where decipherment is currently impossible. Nevertheless, this technique has opened up opportunities for ground-breaking scholarship on manuscripts like Codex Climaci Rescriptus.

Hidden histories
This image shows folio 95 verso (the back side of leaf 95) from Codex Climaci Rescriptus. On it is a synopsis of the passion narratives of the four gospels, from the sixth century (approximately). It contains extracts from Matthew 27:38; Mark 15:27-28; Luke 23:32-34, John 19:18 and Matthew 27:39-40.
The Syriac writing which was put on top when the Greek had been erased is shown upside down in grey. The manuscript's original Greek writing is visible as black text. It's displayed in two columns and has headers showing which gospel is being quoted. 
1. The heading "Matthew" introduces 5 lines of Matthew 27:38.
2. The heading "John" introduces four lines of John 19:18.
3. The heading "Mark" introduces 8 lines of Mark 15:27.
4. The heading "Matthew" introduces 13 lines of Matthew 27:39–40.
5. The heading "Luke" introduces 16 lines of Luke 23:32 — 8 lines in column i and 8 in column ii, of which the top 2 are lost.
6. Section numbers in margin.
Future opportunities for future scholars
One of the oldest continuously occupied monasteries in the world is St Catherine's Monastery at the foot of Mt Sinai. It is where both Codex Sinaiticus and Codex Climaci Rescriptus were originally located and even today it has a manuscript library which is in a class of its own. There are currently at least 160 different palimpsests in the monastery and the Sinai Palimpsests Project is seeking to uncover the secrets of these manuscripts, some of which may date back to the fourth century BC. You can study some of them online yourself at sinaipalimpsests.org.
There are also many palimpsests in collections elsewhere, and often they are not yet known to be palimpsests. The underwriting may have been so thoroughly erased that it is not visible to the naked eye. All this means that the field of palimpsest discovery still has much left for research to uncover.
Over the next few years we anticipate that the results of Tyndale House's decade-long project to read the under-writing of the Codex Climaci Rescriptus will become available. This has been a fruitful journey which has equipped several generations of student interns with specialist text reading skills. It has also uncovered both biblical texts and some of the most important texts for the study of Greek astronomy.
What is probably the earliest manuscript of the New Testament (Papyrus 52) was discovered in a library in Manchester. Some of the earliest tablets of the Babylonian Flood story were discovered in London. More recently manuscript discoveries have been made as people have viewed images online. You don't necessarily have to travel the world to make manuscript discoveries. Many discoveries could even be made from your own home. You just need to know where to look.