Can We Trust the Gospels? A new book from Peter J Williams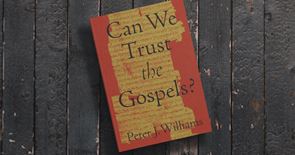 The Gospels ― Matthew, Mark, Luke and John ― tell the story of the life and teachings of Jesus Christ while he was on earth.
But how do Christians know if they are true?
What evidence is there that the events actually happened?
Can We Trust the Gospels? is an accessible introduction to the historical and theological reliability of the four Gospels, by Tyndale House scholar Peter J Williams.
Written for the sceptic, the scholar, and everyone in between, Can We Trust the Gospels? is for anyone interested in the historicity of the Gospel accounts, regardless of prior knowledge or experience of reading the Gospels.
Peter J Williams presents evidence from a variety of non-Christian sources, assessing how accurately the four accounts reflect the cultural context of their time and comparing the different accounts of crucial events to uncover how these texts were handed down throughout the centuries.