Dr George Guthrie is first recipient of the W Curtis Vaughan Award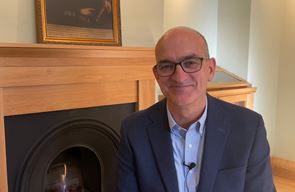 In November, Tyndale House reader Dr George Guthrie was chosen by Southwestern Seminary and Texas Baptist College as the first recipient of the W Curtis Vaughan Award.
This award, named in honour of the late distinguished professor of New Testament at Southwestern Seminary, recognises biblical scholars who have displayed excellence in research, scholarship, teaching, and service for the church in Christian Scripture.
In an article published by Southwestern Seminary, David S Dockery, interim provost and professor of systematic theology at Southwestern Seminary, commented:
"Like Curtis Vaughan, who also was a graduate of Union University and a two-time graduate of Southwestern Seminary, George Guthrie has become well known for his transformational classroom teaching during his tenure at Union and in his current role at Regent college… His works on Hebrews, Second Corinthians, James, Greek grammar, and other areas of biblical interpretation are all held in high esteem by scholars, pastors, and students across various traditions."
Dr Guthrie holds a Master of Divinity and a Doctor of Philosophy from Southwestern Seminary and a Master of Theology from Trinity Evangelical Divinity School. He is currently Professor of New Testament at Regent College in British Columbia and previously taught for 28 years at Union University as Benjamin W Perry Professor of Bible and Fellow in the Ryan Center for Biblical Studies.
He has published several works, including The Structure of Hebrews: A Text-Linguistic Analysis in the Supplements to Novum Testamentum series and commentaries on Hebrews, James and 2 Corinthians. He has also been a consultant on the ESV Bible translation, along with the CSV, NLT and HCSB translations.
Dr Guthrie is currently on research leave at Tyndale House, working on the theology of Hebrews.