World's First Film in Babylonian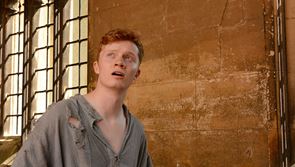 The language of Babylonia has been brought back to life after being silent for 2,000 years
Tyndale House reader and PhD student George Heath-Whyte, plays the lead role in the world's first film shot entirely in the ancient language.
The film brings to life The Poor Man of Nippur, a folktale dating back to 700BC, as part of a project led by Dr Martin Worthington, Senior Lecturer in Assyriology and a Fellow at St John's College.
The film was born out of Dr Worthington's research into how the language was spoken and pronounced. It was once the lingua franca of the Middle East, and was used by Babylonian kings in Mesopotamia, Egyptian pharaohs and Near East potentates.
"Babylonia has such a rich history and there are tens of thousands of documents from the time of The Poor Man of Nippur.
"There are letters from spies, treaties between states, diplomatic correspondence, incantations and medical prescriptions. You can encounter a civilisation that is similar to us in some ways but also very different."
George is one of a number of scholars working on the Tyndale House Old Testament Project which aims to inform our knowledge of the context of Scripture through the study of the languages and culture of the ancient Near East.
You can experience this ancient language for yourself by watching the film, with subtitles, on YouTube.