George Heath-Whyte wins prize for best first article
Old Testament Project
4th August 2023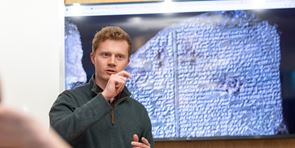 George Heath-Whyte, Research assistant in Old Testament and Ancient Near East studies at Tyndale House, has just been awarded the International Association for Assyriology prize for Best First Article.
George's article is titled, "Patterns of Life in the Babylonian Long Sixth Century BC: A Study of Dated Legal Tablets from Private Archives," and it was published in Archiv für Orient Forschungen 55 (2022).
Find out more about the article here.