New research from the Tyndale House Old Testament team
Old Testament Project
1st December 2022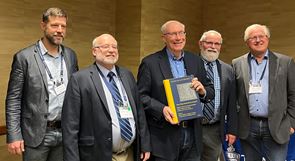 "Now These Records are Ancient". Studies in Ancient Near Eastern and Biblical History, Language and Culture in Honor of K. Lawson Younger, Jr.
Dr Caleb Howard joins James K. Hoffmeier, Richard E. Averbeck, and Wolfgang Zwickel as an editor of a Festschrift compiled in honour of Dr K Lawson Younger, Jr.
Dr Younger is Professor of Old Testament, Semitic Languages, and Ancient Near Eastern History at Trinity Evangelical Divinity School of Trinity International University, Deerfield, Illinois.
The book follows the topics of Younger's work, featuring chapters on Old Testament and Ancient Near Eastern studies. Dr Howard's chapter is entitled 'Some of What's New in the Study of Amorite.' 
Dr Howard says: 'I was Lawson Younger's student and he was one major influence on my choice of the academic path which I have tried to follow since studying with him, namely, serious textual and historical study of the ancient Near East (in my case, especially of Mesopotamia) alongside serious study of the Old Testament. I owe him a great deal for my spiritual and scholarly development.
Romans 12:10 says that we should "outdo one another in showing honor." Helping to edit this book was a way of showing honor where it was due. But it was also a way of presenting some of the work that we are doing in the Onomastics Project at Tyndale House, since the article that I contributed to the book was a direct outcome of our work. It studies some aspects of Amorite language in names of the second millennium BC, which we have collected and analysed here at Tyndale House.'
Patterns of Life in the Babylonian Long Sixth Century BC: A Study of Dated Legal Tablets from Private Archives.
A new article by Dr George Heath-Whyte, published in the journal Archiv für Orientforschung (AfO), volume 55 (2022).
Dr Heath-Whyte says: 'This article is a revised version of my University of Oxford Master's Thesis, submitted in 2018. It seeks to widen our understanding of the patterns of life that governed Babylonian society in the "long sixth century BC", otherwise known as the Neo-Babylonian period—the time of Judah's exile in Babylon. When did Babylonians go to market? Did the concept of the week exist? How did their religion affect their day-to-day lives?
I try to answer such questions by analysing the frequencies of thousands of cuneiform tablets from the private archives of Babylonian individuals dated to each day of the month, and month of the year, as well as the frequency of plans made between individuals for each day of the month and year.
From this, I find, among other things, that a day of the month dedicated to the Babylonian gods of justice seems to have been the most popular day of the month for doing business, and that the Babylonians of the "long sixth century BC" may have observed a five-day week, providing further evidence against the now-outdated claim that the seven-day week originated in Babylonia.'
The Table of Contents for volume 55 can be found at https://orientalistik.univie.ac.at/publikationen/afo/downloads/.