Tyndale House launches Greek New Testament
The Greek NT Blog
20th November 2017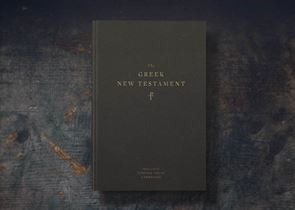 Dr Dirk Jongkind today expressed his delight in celebrating the launch of The Greek New Testament Produced at Tyndale House Cambridge. 
Jongkind, the volume's editor, said: "This represents a 10-year journey to present the New Testament in a way that reflects as clearly as possible its earliest recoverable wording. Taking the edition prepared by Samuel Prideaux Tregelles as a starting text, the Tyndale House Greek New Testament draws on the most ancient available manuscripts, including early sources discovered in the past 40 years. The editorial choices are based on an extensive study of scribal habits, and pay particular attention to the recurring scribal tendencies within manuscripts."
The Tyndale House Greek New Testament significantly assimilates the appearance of the earliest manuscripts, with paragraph marks presented as far as possible as they are in earliest sources, limited punctuation, and the elimination of interruptions from critical signs in the main text. This edition aims to be the most accurate possible printing of the New Testament in its earliest well-documented form. 
Over the course of the project, Jongkind worked with more than two dozen scholars connected with Tyndale House — including associate editors Dr Peter M Head and Dr Patrick James — to research and peer-reviewing the finished text.
Where to buy
Print copies of The Greek New Testament, Produced at Tyndale House, Cambridge, are published by Cambridge University Press and Crossway, and are available through all good booksellers. 
Other editions
The Greek New Testament, Produced at Tyndale House, Cambridge, Reader's Edition (Crossway, 2018) Hardcover
The top-grain leather Reader's Edition was a limited print run and is now out of print.
The Greek-English New Testament: Tyndale House, Cambridge Edition and English Standard Version(Crossway, 2020) Hardcover
Greek Scripture Journal: New Testament Set (Crossway, 2020) Paperback
Greek Scripture Journal: 1–3 John (Crossway, 2020) Paperback
An Introduction
Dirk Jongkind, An Introduction to the Greek New Testament, Produced at Tyndale House, Cambridge(Crossway, 2019) Paperback