More ways to read the Greek New Testament Produced at Tyndale House
The Greek NT Blog
22nd August 2019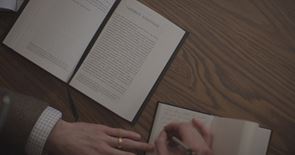 The Tyndale House Greek New Testament is now available on Bible Gateway and the Olive Tree Bible app
The Greek New Testament, Produced at Tyndale House, Cambridge was edited by Dr Dirk Jongkind and Dr Peter J Williams. It takes a rigorously philological approach to reevaluating the standard text - reexamining spelling and paragraph decisions as well as allowing more recent discoveries related to scribal habits to inform editorial decisions.
Ideal for students, scholars, and pastors alike, the Tyndale House Greek New Testament is a groundbreaking contribution to biblical scholarship.
Thanks to the publishers Crossway, the text is now available to an even wider audience.
As of this week, the Tyndale House Greek New Testament is on Bible Gateway, the world's most-visited Christian website.
The text can also be accessed via the YouVersion app, installed on over 385 million unique devices all over the world.
Download from the Apple Store >
Download for Android from Google Play >
A parsed version of the THGNT is also available on the Olive Tree Bible app.
The special parsed edition includes morphological and lexical information and the Olive Tree Enhanced Strong's Dictionary.