How do we choose which Bible translation to read?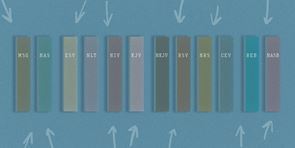 How do we know which translation of the Bible is the best one to read? Tony Watkins looks at the two main approaches used to translate the Bible to help answer this question.
It seems you never have to wait too long until another new English language version of the Bible comes out, yet there are already so many available. While one in five people—over 1.5 billion—still do not have the whole Bible in their language, the popular BibleGateway website offers over 90 Bibles in English alone.[1] Many people have a favourite version, often one they grew up reading or the first Bible they were given, but as the English language continues to change and Bible scholars are always gaining new insights into the text, we can be left wondering if we are really reading the best version or whether these newer versions are better than the Bible we already have.
So how do we choose which version of the Bible to read?
The variety of English versions is a rich resource, but also bewildering. How do they differ from each other? Which one should I use? Each translator or translation committee (which provides some accountability in the process) comes to their own decisions about how to translate the original Hebrew or Greek text.[2] They make these choices as a result of the particular approach they have adopted. Some prioritise conveying the core meaning of a passage, while others prioritise reflecting the patterns of the original languages. Some are more concerned than others to be easily readable by contemporary audiences. Some want to show when masculine terms (such as 'brother') in the original include women as well as men, while others leave it to the reader to understand. Some are very theologically conservative, while others are less so.
This variety is not a bad thing: unless we know Hebrew and Greek, we need the help of these expert Bible scholars to grapple with translation questions on our behalf. In this article I'll briefly explain the two main approaches to translating the Bible from the original languages (Hebrew, Greek, and a little Aramaic), and then suggest how we can improve our Bible reading.
Getting the words right
The first approach is to translate word-for-word as far as possible. You can very rarely have a precise one-to-one correspondence between text in one language and a translation into another language. Words and phrases have too many cultural ideas baked into them. Languages work in different ways from each other, use distinct idioms, and embody different ways of thinking. As you probably remember from school, even with two related languages like English and French, there are phrases you could not meaningfully translate word for word (you would not please your French teacher by rendering il fait chaud as 'it does hot'). Even translators who want to keep as close as they can to the original take the extremely sensible view that the translated sentences should make grammatical sense.
This literal or 'formal equivalence'[3] approach results in text that can feel somewhat alien as it reads awkwardly to a native English speaker. This is quite helpful, in fact, as it reminds readers that it originated in another culture a very long time ago. Even if we know nothing of the ancient languages, we sense a way of thinking behind the text that is different to our own. We can see more of the repetitions and deliberate connections that the original authors included in their writing. The King James Version (KJV) took this approach, as did the New American Standard Bible (NASB). Other popular versions based on formal equivalence are The English Standard Version (ESV) and New Revised Standard Version (NRSV).
None of these are really 'word-for-word' translations. As well as the fact that different languages work in different ways, it's vital to remember that words can mean different things in different contexts. For example, the Hebrew word davar has a range of meanings including word, thing, speech, utterance, occupation, manner, as well as several more. It makes no sense to always translate it as 'word', however 'literal' you are trying to be. This is why every translation is also—unavoidably—an interpretation. At each point where a word or phrase could mean different things, or even just have a slightly different nuance, the translators make an interpretive decision.
Getting the sense right
The second approach is to express the meaning of the original in a way that sounds natural to an English speaker. This way of translating is called 'functional equivalence' or 'dynamic equivalence'. These translations aim for clarity, based on the current style of English (which is constantly changing). Literal translations can be hard work to understand as the sentences often don't read naturally, but we can easily get the sense of a dynamic version. This can be good because our focus is on the sense of the whole and its meaning for us, not the particular words and their syntax. The downside is that we lose more of the subtleties of the original. Repeated words, for instance, are often translated using several English words, not because the meaning is different, but simply because it is good English style to have variety.
Many of the most popular translations use this approach. The best-known dynamic equivalence version is the New International Version (NIV). Others include the New English Translation (NET), and the New Living Translation (NLT). The Christian Standard Bible (CSB) aims at an optimal balance between formal and dynamic equivalence.
Some Bible versions go much further with the aim of communicating the meaning in ways that sound natural to modern ears. These versions, like The Message, are paraphrases. They use modern idioms to communicate the key idea of a sentence, which can make them feel very fresh and powerful, but in doing so they can obscure what the original languages actually say. It is very apparent that such versions are interpretations, but it is important to remember that the formal and dynamic equivalence versions translated from the original languages are interpretations too.
Blurred lines
There are advocates of both the formal and functional equivalence approaches who accuse those taking the other approach of obscuring the meaning of Scripture. Literal translation advocates accuse the others of unjustifiably modernising the text. Proponents of dynamic translations believe that literal translations sound too strange to modern ears and get in the way of understanding.
In practice, all translations are a combination of both approaches. As I noted above, literal translators still believe that the English sentences must make sense, so they take a dynamic approach sometimes or they would be left with something that the translators think would be inaccessible to contemporary readers. For example, in Galatians 1:16, the ESV has 'I did not immediately consult with anyone'. 'Anyone' here translates the Greek phrase 'flesh and blood' (sarx kai haima). The NIV goes for 'any human being'. The NASB substitutes 'mankind' for 'flesh' (sarx) in Acts 2:17. These are not literal translations. The preface to the ESV flags up this unavoidable tension, saying, 'Every translation is at many points a trade-off between literal precision and readability.'[4]
On the other hand, dynamic translations still strive to be true to the original texts, so they generally don't reword things unnecessarily. There are times when a generally dynamic translation like the NIV is closer to the original than a more literal version like the ESV. For example, the Hebrew of Genesis 50:23 says that Manasseh's sons were 'born on Joseph's knees'. The NIV says they 'were placed at birth on Joseph's knees', while the ESV goes for them being 'counted as Joseph's own'. As you can see, the line between literal and dynamic is very blurred.
Mixing things up
This takes us back to the question of which version we should use. You'll probably realise from what I've written above that there isn't a right or wrong answer to this question. It depends on what you want at a particular time. When I'm reading Scripture devotionally early in the morning, I want to hear the sense of the passage, not grapple with strange phrasing, so a more dynamic translation is helpful (I use the CSB at present). When I'm preparing to preach, however, I need to get as close as I can to the original text, so I work with a more literal translation (I generally start with the ESV).
If we are serious about wanting to understand Scripture better, we will want to find ways of compensating for the Bible translation we generally use. We need to compensate for it because, as I've said, every translation is also an interpretation. That doesn't make them wrong, but it does mean that some of the possible meanings in the original are closed off to us. Comparing several translations is an obvious and easy way to allow for this. If we compare a few versions with different translation approaches, we quickly see differences between them. Generally, that will help us understand a passage better, and often it helps us see things we've never noticed before. Once in a while it creates a dilemma because the translations seem so different. At such times, we may need to reach for some commentaries to see what the arguments for the different renderings are.
It might be disappointing to know there is no simple answer to the question of which Bible translation is the best or the most accurate.  Just choose a translation that you feel that you can stick with and get to know well (though avoid paraphrase versions for regular Bible reading). Find out what translation approach it follows so you can know something of its strengths and weakness. The number of places in Scripture where there are very tricky translation decisions to be made is really very small, so you can be confident that for the vast majority of the time, you're reading what the original authors intended.
Further reading
Eddie Arthur, 'The Best English Language Bible.' Kouya.net, 2021.
John Barton, 'There are two ways to translate the Bible, and both are right.' Church Times, 4 November 2022.
John Barton, ‌The Word: On the Translation of the Bible. Penguin, 2022.
Dave Brunn, One Bible, Many Versions: Are All Translations Created Equal? IVP Academic, 2013.
Andy Cheung, 'Foreignising Bible Translation: Retaining Foreign Origins When Rendering Scripture.' Tyndale Bulletin, 2012, 63 (2), pp. 257–74.