Tyndale Fellowship Spotlight: Philosophy of Religion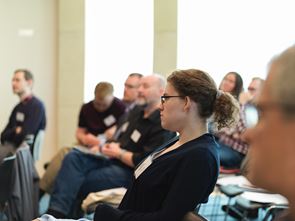 What are you looking forward to about the conference?
'There is no other time in the year when so many evangelical philosophers come together in the UK. We always learn from each others' papers, and try to cheer each other with good news or with prayer support for those struggling. Discussion of the papers is not gladiatorial, but designed to help and encourage. It's good for God's people to be together, and it's good for God's philosophers to be together!'
What is the purpose of the Philosophy of Religion study group? 
'To edify God's people by applying the best philosophy to help interpret the Bible's teaching, and by applying the Bible's teaching to assess what is the best philosophy.
We are delighted that Jon Loose has agreed to give this year's Tyndale Lecture on the important topic of the nature of human personhood considered in the context of the Biblical doctrine of the resurrection of the dead. Such a topic should be of interest to all Christians, and Dr Loose has many years of experience teaching in a university context, allied to a deep evangelical faith.'
A few places remain for the Tyndale Fellowship study groups conference this summer, 22-24 June in Hertfordshire, UK. To find out more and register, click here. Contact Angeline on conferences@tyndalehouse.com with any queries.