Tyndale House Greek New Testament, Reader's Edition
The Greek NT Blog
2nd November 2018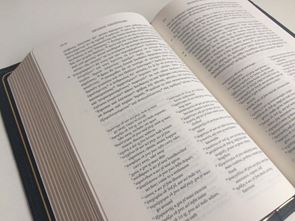 The highly anticipated Reader's Edition of the Greek New Testament text combines the Tyndale House Greek New Testament with a running list of glosses of every word in the Greek New Testament that occurs 25 times or less.
Published by Crossway, the THGNT Reader's Edition is the next stage in the work undertaken by the Editor, Dr Dirk Jongkind, and Associate Editor, Dr Peter J Williams, to provide a text of the Greek New Testament that reflects as closely as possible its earliest recoverable wording.
The Reader's Edition means that those with limited knowledge of Greek can smoothly read the Greek text without needing to constantly refer to other resources — opening up access to the Greek text to a wider readership, increasing familiarity with the text and making reading the original language more rewarding and enjoyable.
You can pre-order your own copy of the THGNT Reader's Edition on Amazon UK and from Crossway in the US.
Updated September 2020:
The top-grain leather Reader's Edition was a limited print run and is now out of print. The publishers Crossway don't currently have plans to reprint it but do often revive limited print runs around 5 years after the run goes out of print and so there is a chance that it will be available again at a later date.